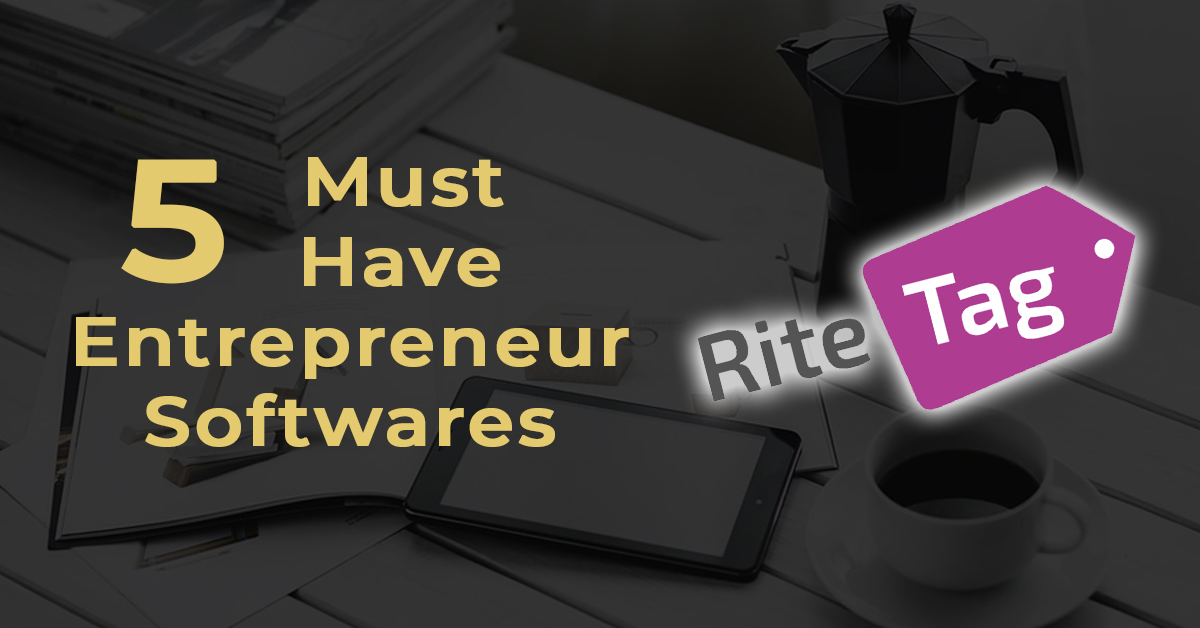 5 Must Have Entrepreneur Software Items
5 Must Have Entrepreneur Software Items
As an entrepreneur, I have often had times where I needed a software, but didn't know that I did, until I found it. These softwares fit that category. Some of them, I didn't know existed and then I discovered them, while others, I imagined a software that could help me and simply Googled it and found one. Check out these five entrepreneur software options, that I know can help you get things done or do things better.
Ritetag
First up is RiteTag. This is a software does several things, but I most like it for it's hashtag mapping. RiteTag crawls hashtags using social media sites and catalogs the hashtags that are being used, while also making note of what tags they are used with. By doing so, it makes relationships between similar hashtags and these relationships are searchable within their site and the results come back as a visual map.
In addition, RiteTag also gives you color-coded suggestions on which hashtags are best to use, based on usage. Some tags are used too much, some are not used nearly enough to get noticed, some will get you noticed immediately (green), and others will get you noticed over time (blue). They also have instagram only suggestions.
Whereby
Next up is Whereby. This app is convenient for quick meetings. While most people use Zoom these days, Whereby has the benefit of creating quick meeting rooms that are used on a continual basis. You can simply setup the room once and then share that link with whoever you need to meet with, without setting it up every time. I typically just copy my link and send it (i.e. https://www.whereby.com/sampleRoom). Like many virtual meeting rooms, this one is also capable of screen sharing.
AutoDraw
Auto Draw is the next one on the list. This SaaS (software as a service) is simply a drawing program, which I tend to use when talking to someone on Whereby. It can be especially helpful when explaining process flows to remote developers or explaining a website layout to a remote designer. It can even be helpful for simply thinking through your own systems and processes. Although I usually do that on paper, because I like the feel of a pen in my hand. I guess I'm a bit old school like that.
MindMup
For thinking through systems and processes, I prefer to have something that looks better than my jagged handwriting on AutoDraw. For this, I tend to like mind mapping programs. A great mind mapping software that you can use online is MindMup. This particular mind mapping software has software has really good options for making branches and segments. Visually, the software is pretty good. It has options for color changes, both in the node background and text colors, which allows you to color code related items.
Visuwords
The final entrepreneur software I like is Visuwords. This software is similar to the hashtag mapping that Ritetag offers, except this is simply words. You can type in a word, such as business and a bunch of related words come up. Then if you click on one of the words that comes up, you will get more words related to that specific word. This can go on and on.
At first, the benefit in this may not be apparent, but this can be very beneficial when looking for SEO keywords suggestions that are outside of the box. Many SEO keyword suggestion tools rehash the same keywords, but they often lack some level of specificity. So, using something like Visuowords can help to find new ideas, maybe even ideas that few people have thought about, but are still being searched for a lot. Once you find something you think will work, you can check the word in this tool below:
So, that's it! These are the 5 entrepreneurial softwares that I suggest you check out today. Also, be sure to check out the keyword tool above! I have personally used this tool for about three and a half years and I love it! It has been very instrumental in ranking several key websites on the first page of Google.
BTW, here is the video version of this article:
Now go and grow YOUR Legacy!
~ Joshua