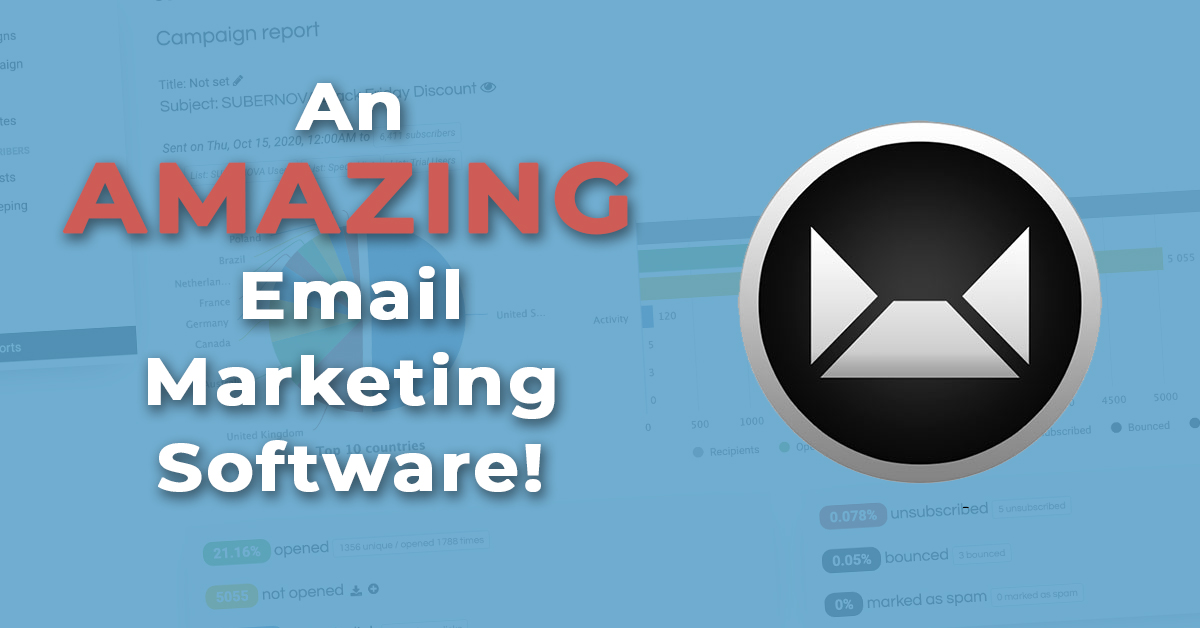 An Amazing Email Marketing Software
An Amazing Email Marketing Software
Today, I will be discussing an email marketing software called Sendy. Sendy is an email sending platform that allows you to send newsletters really inexpensively, especially in comparison to other programs like MailChimp which charge up to 100x more than what Sendy does. I can literally send 40 thousand emails for about five bucks. If you're like many business owners, you don't want another subscription. Sendy has a one-time fee and then you own the license to the software.

While you can use just about any email delivery server via SMTP, such as Mailgun, Mailjet, Mandrill, and PostMark, Sendy is designed to send through Amazon SES, using their API. So, if you want to take advantage of Amazon's pricing, you must set that up.
Sendy is also self-hosted, but that is as simple as finding a server admin on UpWork to set that up on a virtual server, such as Digital Ocean or Amazon EC2.
Now let's test out Sendy's features. You are able to import email templates into Sendy and quickly create and send email campaigns to potential prospects. You can name these campaigns and change them to HTML format. Be sure to also add a plain text script for non-HTML users. It is also important to note that Sendy is GDPR compliant and features dark mode.
You can further customize your email template by inserting names or emails of prospects in specific parts of the template. You can personalize your own email with your signature, the date of the month, your job title and more. There are also rules that can be assigned to customize your campaign. These rules include an autoresponder option where you can set up automatic responses to drip campaigns.
Next, you can test your campaign by sending a test email to a mail tester on a mail testing website. Copy and paste the mail tester email into the Sendy email bar and click send. Then go to the mail testing website and check the score. If you receive a high score, you are good to go!
After this, if all is well you can select your list and send your email campaign right away or schedule it for later. Simple as that.
Once you send out your campaign Sendy will start tracking the stats including how many emails were delivered and how many were opened. You can continue to check these at any time. The campaign metrics section includes a pie chart of the countries of origin within your list, a bar graph comparing opened vs. non-opened emails, and link click activity.
The site also features a housekeeping option where you can block unsubscribers from future campaigns and blacklist for people you do not wish to contact.
Finally, you can view reports of all your campaigns and compare and contrast them. This is a way to know whether your marketing efforts are effective. Now, how's that for an email marketing software?
One more thing! I am a part of an entrepreneur roundtable, so to speak, and they are accepting new members right now. Take a moment to check this out, the first 25 minute training video is actually free: ENTER